History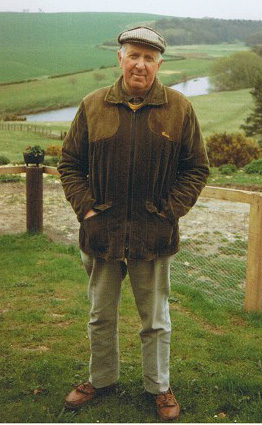 The Tyne Tees and Tweed Field Trial Association was the brainchild of our late President Bill Davidson back in 1979, in fact without Bill there would be no association. Very sadly Bill died from leukaemia in January 2001 just before his 74th birthday. Bill had been involved with gundogs from a very early age, and had great success with both Springer and Cocker spaniels, and Labradors, making up field trial champions in all breeds. Bill won the Cocker Spaniel Championship in 1981 with Sandringham Mango and again in 1983 with Dale of Biteabout.
Bills sensible, no nonsense, and above all, fair approach to judging made him highly sought after. He judged both the Spaniel and Retriever championships and ran many times for England at the CLA game fairs.
The Associations name also came from an idea which Bill had, trying to tie in the sporting and industrial heritage of the North East to its rivers, and because the association originally was to start as a Spaniel Club the first stab at the name was "Tyne Wear And Tees Spaniels", and whilst everyone was in verbal agreement, you may see that once abbreviated it did need some adjustment. At this same time we also planned to use field trial ground situated on the banks of the Tweed, which had been kindly donated to us by his Grace the late Duke of Sutherland, so we decided to incorporate the river Tweed into the name. We therefore dropped the Wear and became the Tyne Tees and Tweed Field Trial Association, and the only abbreviation now is the 3Ts. Soon afterwards because we needed more dogs into the Association which would create more revenue and allow us to do more, we opened the membership up to retrievers.
Our first trial though was a novice spaniel held on the Duke of Sutherland's estate near St.Boswells. The judges were the late Bernard Dutton and Peter Stewart, with myself as referee, (spaniel trials had referees in those days). Soon afterwards we started novice retriever trials at various venues, however because of the cost involved in these trials the association needed to invite members or guests to shoot at the trial and to pay for the day between them, which I and a number of my friends have done for the last 30 years, and at the ripe old age of 63 I think it's time now to hand over to someone else.
Having successfully run novice stakes, it was not too long before we applied for Open status, but we were not surprised to be turned down at this first attempt as there was considerable pressure on both the spaniel and retriever championships (nothing much changes there). I came up with the idea of requesting, initially, Open status for cockers only. The rationale for this was the fact we had a strong following of Cockers in our area, mainly due to the great success of our then chairman Bill Davidson, but also the fact that the Cocker Championship was not under the same "numbers" pressure as the other breeds. So because my work commitments took me regularly to London I requested a face to face meeting with field trial personnel. This was kindly granted, and I put our case to them. At first they were unsure, as this approach had never been requested before, so they asked for time to consider. Some weeks later we received confirmation that we had been granted Open status for Cockers only. Following our first successful Open Cocker stake, we applied the following year for Open Springer and Open Retriever status, and this time we had them granted. We now run Novice and Open Trials for Cockers, E.S.S. and Retrievers including a 24 dog two day Qualifier.
The Association now has a limited membership of 650 and access to some of the best Trial grounds in the country. Bill would be very proud.
Malcolm Taylor
Club president